Renting a home will always have some level of worry when it comes to your safety and security. Thankfully, though, there are more ways for you to protect your home that aren't so expensive. With the right security package, you may never be too concerned about the safety of your home. Home security for renters is essential to providing peace of mind for you and your loved ones. According to statistics, one burglary occurs every 13 seconds, of which 1,495,790 happens during the day. This necessitates a security system to enhance your home's safety when at home or away.
Let's look at renters' top home security options to help you make the right decision for your security needs.
What to Consider When Choosing
Home Security for Renters
Before choosing a home security system for renters, there are a few things to consider:
Installation Type
Wall installations that need drilling are typically restricted to rental properties—renters like easy-to-install equipment. Therefore, the best option is wireless devices because no hard wiring is required. In addition, you don't need to drill into your walls because you can fix wireless gadgets using adhesives. Furthermore, renters frequently move, so they choose simple equipment to uninstall and use in their next residence.
Contract Period
Long contract terms may not be an issue for homeowners. Unfortunately, a renter's situation is different because they might not have enough money to commit to a long-term contract.
Monitoring Options
Most companies provide free self-monitoring solutions, which some renters may prefer. You can also choose professional monitoring, which offers round-the-clock surveillance if you want an extra pair of eyes on your house. This surveillance ensures that emergency dispatch for the police, medical team, or fire department will act quickly.
DIY Installation
Most renters choose a DIY installation due to budget constraints. This helps lower your apartment's overall security expenditures.
Best
Home Security for Renters
The ideal home security system should meet your needs. Choosing the best home security for your apartment can be difficult because the market is so inundated. We have already researched the best home security system for renters, allowing you to pick the one that best suits your requirements.
1. Wyze Home Monitoring: Best Budget-Friendly
Wyze is widely known for its affordable home security options with unique features, especially the outdoor security cameras. The Wyze Home Monitoring system is no different. It offers 24/7 professional security monitoring. Whether at home or not, this system will provide peace of mind since professionals cover you. You will receive a security alert within 5 seconds after your alarm is triggered. If there's no response, a dispatcher calls you, and if you confirm an emergency or don't respond, they alert 911.
Wyze offers personalized kits to ensure your home is completely protected, and no matter the equipment you choose, the monitoring price is still the same. Furthermore, the system is also easily expandable, and in case you want to add some security devices, it's as easy as peel-and-stick. For example, you can add climate sensors to alert you when your temperature or humidity changes depending on your settings.
The best part is that you can add Wyze Cam (sold separately) to your WyzeHome Monitoring system to ensure you have extra eyes in your home. To top it all off, you require no tools when installing the system since all the sensors are wireless and come with adhesives. This makes it easy to uninstall and use in your next apartment.
Specs
Security hub
Wireless keypad
Motion sensors
Entry sensors (2)
Costs
Monthly monitoring fee: $9.99
Annual monitoring fee: $99.99
Equipment: $99.98
Pros
The most affordable monitoring
No contract
Easily expandable
Easy installation
Pet-friendly motion sensors to reduce false alarms
Control and monitor your home anywhere, anytime, with a phone app
Works with Alexa and Google
Cons
Short warranty
It doesn't include a security camera.
No cellular backup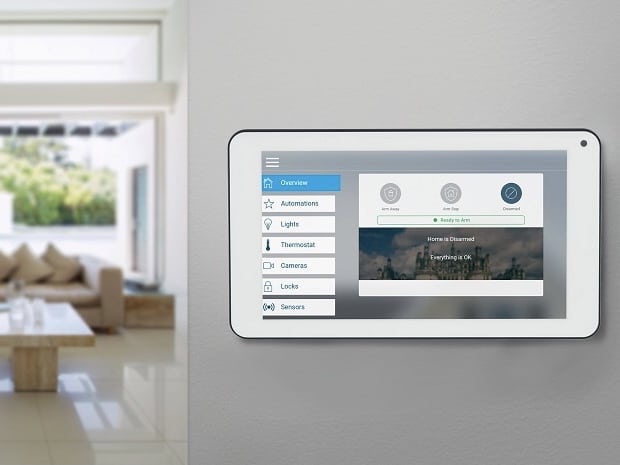 2. Ring Alarm 5-Piece Kit (2nd Gen): Best for DIY
The Ring Alarm 5-Piece Kit is a do-it-yourself whole-home security system perfect for condos and apartments. It sends notifications when someone opens the windows or doors, triggers the motion sensors, or sets off the alarm. You can easily monitor and control the Ring security system through a phone app using Alexa. Also, when paired with the Alexa guard, you will receive smart alerts on your phone, including when the smoke alarm goes off.
When self-monitoring, you can use your Echo to phone agents and ask them to send out emergency responders if you get a security breach notification. Otherwise, with a Ring protect plan, you receive 24/7 professional monitoring, which gives you real-time emergency support. In addition, you can enjoy $100 savings or more annually on home insurance with a professionally monitored Ring alarm.
Furthermore, you can add smart devices such as smoke detectors to enhance security in your home. Also, you can easily add a video camera to your security system for easier monitoring.
If you're looking for a Ring security system with a video doorbell, you can go for the Alarm Pro Security Kit, 8-Piece + Video Doorbell 3.
Specs
Base Station
Keypad
Contact Sensor
Motion Detector
Range Extender
Costs
Equipment: $199.99
Monthly monitoring fee: Basic: $3.99, Plus: $10, and Pro: $20
Annual monitoring fee: Basic: $39.99, Plus: $100, and Pro: $200
Pros
Allows for self and professional monitoring
Comes with cellular alarm backup
No contract
Easy to install and use
Cons
3. SimpliSafe 8 Piece Wireless Home Security System: Best Monitoring Service
SimpliSafe is the granddaddy of home security systems due to its unique features, value for money, and flexibility. The SimpliSafe 8 Piece Wireless Home Security System is a testament to this. With this system, you can access 24/7 professional or self-monitoring, where the former offers prompt emergency dispatch. Furthermore, it has a cloud recording with medical, police, and fire dispatch. The entry sensor will guard your doors and windows, and the panic button provides extra protection at your bedside.
The system is compatible with Google, Alexa, Apple Watch, and more, unlike the Wyze and Ring systems. Also, it allows you to customize your security system to match your needs. To ensure you get the best system for your home, Simplisafe provides five pre-configured packages where you can pick your choice.
Better still, Simplisafe offers a risk-free 60 days, and you receive a full refund if it doesn't match your security requirements.
Specs
Base station
Keypad
Motion sensor
Entry sensor(4)
Panic button
Costs
Equipment: $229.99
Monitoring plans: Self-monitoring with camera recording – 33¢/day, standard monitoring – 60¢/day interactive monitoring – 93¢/day.
Pros
Easy installation, so no need for drilling
Provides the best monitoring service
No contract
You can use the system in your next rental
Provides cellular backup
Con
The base station is not as loud
Must pay upfront cost for the equipment
Limited smart home features
Short warranty
4. Abode Iota All-in-One Security Kit: Best for Apartments
Are you looking for a fuss-free installation? Then, Abode Iota All-in-One Security Kit is your perfect choice. Luckily, the hub houses most equipment for this kit, so the setup is quick and hassle-free. It's incredible how it functions when all the devices work from a single point.
This security kit is flexible since it can integrate with other devices from different brands, making it easy to use any available devices in the apartment. Furthermore, you can easily add an outdoor wireless camera for maximum safety and security. Unfortunately, most home security for renters does not support third-party devices.
The Iota All-in-One Security Kit provides flexible monitoring options. You can monitor your system using an Abode App or let professionals do the job for you. The pro monitoring service provides 24/7 protection and sends help immediately if they detect an emergency. To top all this, you can choose to pay for professional monitoring while you're away and self-monitor while you're home.
Specs
Base unit
Motion sensor
93db siren
Two-way audio
Built-in HD camera
Costs
Equipment: $245
Monthly monitoring: Standard plan – $6.99 and $21.99 with Pro Plan
Annual monitoring: Standard Plan: $65.99 and $219.99 with Pro Plan
Pros
Quick and easy installation
No contract
Provides WiFi and cellular connectivity
Compatible with third-party devices
Supports Z-Wave and Zigbee technologies
Perfect for home automation technology
Cons
Cellular backup is available with Pro Plan
Limited app ability
5. Cove – 8 Piece Home Security Alarm System Kit: Best Equipment
Cove provides a simple-to-install security system with a built-in installation wizard on the touch screen panel. The Cove – 8 Piece Home Security Alarm System Kit offers a 24/7 monitoring service with a faster response in an emergency. The monitoring uses RapidSOS to send data directly to 911 dispatch. Cove also gives you an option to customize your security system. You only have to take a quiz, and Cove suggests equipment based on your apartment.
Despite their monitoring fee being a little exaggerated, they offer the best equipment prices. For example, the touch screen panel is barely $100, while most other devices only go for $20.
Specs
Motion detectors (2)
Free indoor camera
Security key remote
Door/window sensors (4)
Touch alarm panel
Costs
Equipment: $157.6
Monthly monitoring: Basic plan – $17.99 and the Plus plan: $27.99
Pros
Quick and easy installation
No long-term contracts
Cellular backup is available
Lifetime equipment warranty
60-day hassle-free
Cons
No self-monitoring option
Limited home automation
Protect Your Home with ONIT Home
A home should be safe and secure for you and your loved ones, whether you own or rent it. The best home security for renters should provide DIY installation, short on no contract, and self and professional monitoring services.
At ONIT Home, we provide a customized security system where you choose the equipment combination that fits your security needs and budget. Furthermore, our systems are easy to install, so you can easily DIY, and in case there's a hitch, we can provide you with guidance. You can also control the system or choose 24/7 professional monitoring at an affordable price.
For more information on security systems, visit our website today. You can also call us at 1-833-433-0331 to speak with our dedicated team. Need home security? We're ONIT!