San Antonio is known for its diverse population and its Spanish heritage. It's also known for its many popular tourist attractions, such as the Alamo and the River Walk. This city has the 7th largest population in the U.S. In recent years, San Antonio has also become known for its thriving tech industry. So, how is San Antonio's tap water quality with all the fantastic things surrounding it? Is it safe for drinking and other domestic uses? If you live in San Antonio or are planning to move to this city, this article is for you. Now, let's look closely at the San Antonio tap water quality, including the city's efforts to improve it.
Understanding Water Quality
Water quality refers to how well the water meets the needs of any human condition and those of one or more biotic species. It describes the physical, chemical, and biological characteristics of water. Water quality is most commonly used as the standard against which compliance, or the degree of water quality, is assessed. The most common criteria to evaluate water quality are those published by the U.S. Environmental Protection Agency (EPA).
Understanding water quality is essential for protecting our communities' environment and health. Different factors can affect water quality, including pollutants, weather, and the natural environment. Pollutants come from various sources, including factories, sewage treatment facilities, and agricultural operations.
Weather can also affect water quality, as heavy rains can wash contaminants into waterways and cause flooding. In addition, the natural environment can affect water quality, as minerals in the ground or decaying organic matter can pollute it.
San Antonio's Water Quality: An Overview
The San Antonio water quality level matters a lot to the city's residents. That's because they rely on water for almost everything in their homes, from drinking, cooking, laundry, livestock, irrigation, swimming, and everything in between. The city gets its water from the San Antonio Water System (SAWS), the largest water and sewage utility in Bexar County, Texas. It serves the City of San Antonio and surrounding areas, serving approximately 2 million people.
A few years back, SAWS solely depended on the Edwards Aquifer as their primary water source. Today, the organization has nine different water sources, with 15 other projects providing reliable and sustainable water supply. However, the Edwards Aquifer remains the dominant provider, with 51.2 percent of the water coming from it. San Antonio has been improving its water quality recently, and the city has made significant progress in this area.
The Texas Commission on Environmental Quality (TCEQ) has rated San Antonio's water system exceptional since 1936. San Antonio Water System provides high-quality water to your tap by protecting and managing watersheds. In addition, it implements policies for preventing and reducing the environmental pollution in water sources.
Why Is Water Quality Important?
Water quality is essential for many reasons. It can impact human health, the environment, and the economy. Poor water quality can lead to contamination of drinking water, which can cause health problems for people who consume it. It can also spread diseases and illnesses, as contaminated water can be a breeding ground for harmful bacteria and viruses.
Furthermore, poor water quality can damage the environment, as it can pollute rivers and lakes. Polluted rivers can harm wildlife and lead to the depletion of aquatic populations and the surrounding ecosystem. Furthermore, poor water quality can impact the economy, making it difficult for industries that rely on water to operate.
The Key Components of Water Quality
Water quality components are the parameters that determine their suitability for a particular use. These components are classified as:
Physical properties: This includes things like temperature, color, and turbidity.

Chemical properties include pH, dissolved oxygen, and concentrations of pollutants.

Biological properties: Determine the presence of microorganisms like bacteria and viruses.

Aesthetics: includes factors such as taste, odor, and overall water appearance.
How Does San Antonio's Water Quality Stack Up?
According to the EPA, the water quality in San Antonio meets the federal public health drinking water criteria. However, saying that San Antonio tap water quality meets EPA standards doesn't mean the water is free from contaminants. The city's water quality is based on EPA standards. Congress set the Safe Drinking Water Act (SDWA) in 1974, where it went through two amendments in 1986 and 1996. This means that tap water might contain pollutants, as these standards may not account for high environmental pollution.
According to the Environmental Working Group (EWG), the current standards are based on outdated science. This means they do not consider the latest research on the health effects of exposure to toxic chemicals. The measures also do not adequately protect against the risks posed by climate change. Because of these findings, EWG has been analyzing annual water test reports from the water utility system and comparing them with EWG's standards. They then provide the findings on their tap water database.
Effects of Contaminants in Water
Contaminants in drinking water can cause several health problems, including gastrointestinal illness, reproductive problems, neurological problems, and chronic diseases such as cancer. They can also cause skin dryness, redness, or itchiness. Also, water hardness can cause your hair to become dry, dull, and brittle. Poor water quality can cause damage to appliances, such as water heaters and dishwashers. Therefore, removing contaminants from your drinking water is essential to protect your health and your appliances.
So, San Antonio, What's In Your Tap Water?
The EWG found 39 total contaminants in San Antonio in the 2021 water quality tests. Among these, 15 of them exceeded the EWG standard limits. Here is what is in your tap water, San Antonio residents:
Bromochloroacetic acid tested 139 times more than EWG's health guidelines.

Bromodichloromethane was 106 times higher than EWG's health guideline.

Bromoform tested 4.7 times greater than EWG's health guideline.

Chloroform is 13 times greater than EWG's health guidelines.

Chromium (hexavalent) was 6.8 times higher than EWG's health guidelines.

Dibromoacetic acid tested 62 times greater than EWG's health guideline.

Chloroform tested 13 times higher than EWG's health guidelines.

Dibromoacetic acid was 62 times more than EWG's health guidelines.

Dichloroacetic acid was 17 times greater than EWG's health guidelines.

Haloacetic acids (HAA5); are 83 times greater than EWG's health guidelines.

Haloacetic acids (HAA9) were 161 times higher than EWG's health.

Nitrate tested 12 times higher than EWG's health guidelines

Radium, combined (-226 & -228) was 7.4 times greater than EWG's health guideline.

Total trihalomethanes (TTHMs) tested 208 times more than EWG's health guidelines.

Trichloroacetic acid was 13 times greater than EWG's health guideline.
These are just contaminants that were found to exceed the EWG health guidelines. You can visit the EWGs San Antonio tap water quality database for a complete list of the pollutants. However, it is good to note that most of the contaminants that exceed the set limits of EWG pose a severe risk of cancer.
How to Check Your Water Quality
Testing your water is the most straightforward approach to determining its quality. You can carry this out independently, although it's good to let experts do it for you because they have experience and can assist you in selecting the best treatment method.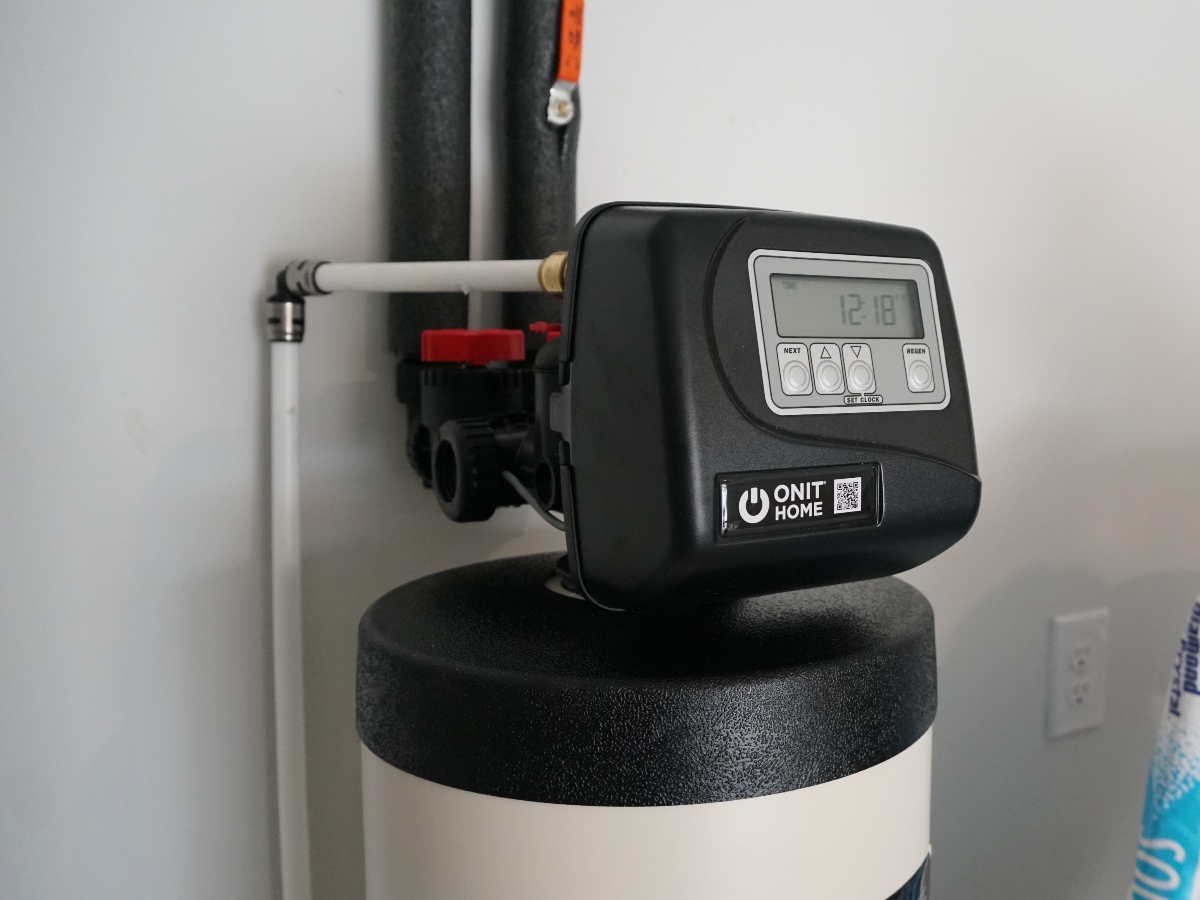 What Can You Do to Improve Water Quality in Your Home?
The best way to improve your home's water quality is by using a water filter. Water filters can remove impurities from your water, such as lead, bacteria, and sediment. Also, filtered water can taste better than unfiltered water, thanks to the removal of chlorine and other chemicals.
Furthermore, water filters can also extend your appliances' life by preventing sediment and mineral buildup. On top of all this, they can save money by eliminating the need to buy bottled water.
There are numerous varieties on the market, and selecting a water filter that fits your demands is crucial. The best water filtration system for the home is the reverse osmosis system, although there are other options. Its process works by passing water through a membrane which allows water molecules to pass through but traps impurities such as salt, bacteria, and viruses.
Enjoy Safe and Clean Water with the ONIT Home Filtration System
Now you know all about the San Antonio tap water quality. From this, it's evident that the water you drink at home may not be as clean and safe as you think. Therefore, it is essential to take regular tests to confirm the water quality in your tap. ONIT Home provides free water testing and takes you through the results to ensure that you understand the quality of your water. We also recommend the best whole-home filtration system that best meets your needs. At ONIT Home, we use reverse osmosis systems to provide you with cleaner and tastier water in your home. Our system will help eliminate water hardness and all contaminants that can cause serious health effects. But, as we know, a system will work perfectly only with a good installation. At ONIT, our professional installation team ensures it installs your system correctly.
Please don't hesitate to call us at 1-833-433-0331 or visit us online to learn more about our free water testing and filtration system. For all your clean water needs, we're ONIT.