Did you know roughly 7.2 million Americans fall ill each year with illnesses brought on by contaminated water? This still happens despite having the world's safest and most reliable drinking water sources. That's why whole-house water filters have become a piece of crucial equipment in your home. Our whole-house water filters comparisons guide will help you select the best filtration system for your home's needs.
What Are Whole-House Water Filters?
A whole-house water filter or point-of-entry (POE) system is a device that filters the water coming into your home. It's typically installed near your water meter or where your water main enters your home. One of the main advantages of these systems is that they allow you to enjoy clean water from all water sources inside your home. Due to lifestyle changes, home water filtration has become more popular. The global market for home water filtration systems was estimated to be USD 10.85 billion in 2021.
Whole House Water Filters Comparisons by Company
When it comes to choosing a whole-house water filter and doing whole house water filters comparisons, there are a lot of factors to consider, including the company. The following whole house water filters comparisons list will give you a rough idea of the best.
Culligan Whole House Water Filters
Culligan has been in the water treatment industry since 1936. At one time, it was known as the father of the soft water sector in the U.S. Today, people refer to Culligan as the "grandfather" of water treatment systems.
Eighty-six years ago, Culligan water was founded by Emmett J. Culligan with his brothers as partners under the name Culligan Zeolite Company. They aimed to provide soft water for homeowners. Over the years, the Culligan has evolved tremendously and now deals with various water treatment systems, including water softeners and whole-house filtration systems. Culligan has 2.5 million offices in 90 countries and approximately 900 dealerships.
Culligan has reverse osmosis systems and water softeners that offer clean water, depending on your chosen system. Their water-softening systems provide clean water throughout your home, protecting your skin, plumbing systems, and appliances. Culligan'sCulligan's whole-house filtration system can reduce contaminants like arsenic, chlorine, iron, and sulfur. It can also remove bacteria, turbidity, sediments, taste, color, and smell. The most exciting feature is the intelligent technology that allows you to monitor your water quality from your phone.
Warranty
Culligan Water offers a 30-day return policy. If you find the system is not working correctly and does not match your home needs, they will uninstall it and refund your money. In addition, their products come with a limited lifetime warranty, depending on your system choice.
Costs
Culligan water filters are more expensive. However, their quality is worth every penny. The cost depends on the system you choose. Each family has different needs when it comes to water quality. That's why Culligan filters come with various features and qualities. No matter the filter you choose, Culligan offers flexible payment plans, including purchasing, renting, and financing. Professional installation is included in all the payment plans. Culligan offers free water testing. You only have to make an appointment, and they will do the test right in your kitchen. They will advise you on the best system to use in your home. Culligan has 3.9 out of 5 stars based on 617 ratings.
Rainsoft Whole House Water Filters
Rainsoft has provided homeowners with water and air treatment systems for the past 69 years. The company has served approximately 1.2 families.  The company started its services in Bensenville, Illinois. Today, it has over 300 dealerships in 20 countries. Rainsoft products are assembled and shipped from their factory in Chicago. Their products are high quality since they are tested and certified by third-party agencies. For example, the Water Quality Association (WQA), NSF (National Science Foundation), and Underwriters' Laboratories UL) have certified Rainsoft's whole-house water filters.
Rainsoft offers the following whole-house filters:
Water conditioning systems
Carbon filtration system
A semi-automatic carbon filtration system
RCUV ultraviolet light water disinfection system
Depending on the system, you can eliminate water hardness, bad taste, odor, cloudiness, and other colors. According to the manufacturer, their filters can also remove bacteria, viruses, manganese, lead, iron, sulfur, and volatile organic compounds (VOCs).
Warranty
According to Rainsoft, they provide a lifetime limited warranty for their products, which are designed to last a lifetime. It's hard to get the information on the exact duration unless you contact their customer service by filling in a form on their website.
Cost
RainSoft does not list its price on the website. Instead, they advise you to contact your nearest dealer. However, customer reviews indicate that RainSoft's costs are through the roof, but the quality of their systems is solid. According to consumer reviews, the company scored 4.6 out of 5 based on 377 ratings. One advantage of using the referral program is earning $50 per referral. Rainsoft offers a free water test. This is the first step they take to analyze your water quality. Their experts will come into your house and test the water, interpret the results and give you a recommendation.  You have two options when installing the RainSoft filters; professional or DIY installation.
Aquasana Whole House Water Filters
Aquasana was founded in 1998. In 2016, the company was acquired by A. O. Smith for $87 million. The company's executive and marketing team are based in Austin, Texas, while its operations hub, sales, and customer service are in Haltom City, Texas. Aquasana deals with whole-house treatment systems such as drinking water systems, whole-house water conditioners, whole-house treatment systems, and UV filters. Their whole-house filters are designed to tackle city and well water problems.
Aquasana water conditioners make your water salt-free giving your plumbing and appliances a long life. The whole-house filter system provides clean water throughout the house that you can use for your water needs, from drinking to bathing. The whole home filter can reduce chlorine, sediments, heavy metals, taste and odor, VOCs, bacteria, viruses, and others. Aquasana systems have a pre-filter that eliminates silt, dirt, and sediment in your water. After sediment removal, the water goes through two filters: activated carbon and the copper-zinc mineral stone filter. Their filters have NSF/ANSI certification, meaning they meet standards for providing high-quality water.
 Warranty
Aquasana offers a 90-day trial period. If you're unhappy with how the filter works, you can return it to the company for a full refund. In addition, the company provides a warranty based on the product you choose. The warranty period for the filters ranges from 4 to 10 years.
Costs
Whole-house filters will depend on the filter you choose. The cost is between $1,400 and $4,935. Their systems are also upgradable, so you can add a UV filter or water conditioner, which will increase the price. The company also offers flexible payment options using Affirm. Aquasana uses National Testing Labs to test their customers' water, meaning they don't offer free home water testing. They also advise their customers to use a professional to install the filtration systems as the process can be complex. Aquasana whole-house filters have good reviews. For example, the EQ-1000 filter has 4 out of 5 stars based on 739 ratings on Amazon.
Pelican/Pentair Whole House Water Filters
Pentair was founded in 1966 with the aim of manufacturing high-altitude balloons. After venturing into different ventures, they eventually followed the line of water treatment systems. Pentair is in 26 countries and available in 135 locations. Its revenue for 2021 was $3.8 billion. Pentair's whole-house filtration systems include water filters, UV filters, iron & hydrogen sulfide removal, and water softeners. Their systems are efficient and tailored to your home needs.
Pentair also offers under-the-sink reverse osmosis filters, countertops, and shower filters. The whole house filter is certified to remove 97% chlorine, eliminating related tastes and odors. It has a pre-filter that catches dirt and debris down to 5 microns before they reach your tap. Furthermore, the filters use Catalytic Granular Activated Carbon (GAC) Media that filters contaminants such as chloramines, chlorine, and industrial solvents. It also has a Copper and Zinc Oxidation Media that helps remove chlorine further and gives the GAC a long life.
Warranty
Pentair warranty depends on the product you choose. You will receive one year on the comprehensive system and five years for the tank, valve, and electronics. They pride themselves on quality workmanship and materials. They also offer a 60-day trial period; if you're unsatisfied with the system, you can return it for a full refund. Furthermore, you can return any of their unused products before 90 days lapses from the shipment date. Pentair does not offer free water testing. In addition, their whole house filtration systems come with an installation kit for an easy and quick DIY installation.
ONIT Home Whole House Water Filter
This whole house water filters comparisons list can't end without the state mentioning the state-of-the-art whole home filtration system from ONIT Home.  ONIT Home was founded in 2010 as a home security company. Later, the founder, Curtis Kindred, decided to offer products and services to homeowners, including solar systems, water filtration, roofing, and insurance concierge. The whole-house water filtration system from ONIT Home includes an RO system, UV filtration, and water softeners. This system can remove 99.9% of contaminants, including bacteria, viruses, chemicals, debris, chlorine, taste and odors, and more.
ONIT's whole home filtration system has an NSF/ANSI Standard 58 certification, and together with independent testing, it assures clean and safe water. Their filtration system boosts self-cleaning, making maintenance easier. With an ONIT filter, you get a system customized just for your home. Unfortunately, the company does not indicate its systems' warranties or costs. But the good thing is that you can quickly get a quote from them. Furthermore, their customer service is easily accessible.
ONIT Home offers free home water testing. The experts will interpret the results for you, find the source of the problem, and recommend the best system for your home. All you need to do is to book an appointment, then allow them to use your kitchen counter, and you'll have the results within 10 minutes. As much as you would like to minimize your costs during installation, ONIT Home recommends a professional installation. That way, you can leave the hard part to the experts so it's done correctly!
Warranty
ONIT Home's extended water system warranty coverage is here to protect your purchase and make sure your system is always working the way it should be for many years to come. 
Perks Included in the Extended Warranty Package: 
Makes owning your system hands-off and hassle-free

Guaranteed coverage for wear and tear damage

Includes all labor charges and replacement parts

Two service calls per year
Pros: 
Bundling options with home services
Financing plans
Free water testing with day-of results
Cons:
As of right now, ONIT Home is only available in Texas. However, this could change in the future so check the website frequently to see if your area is covered!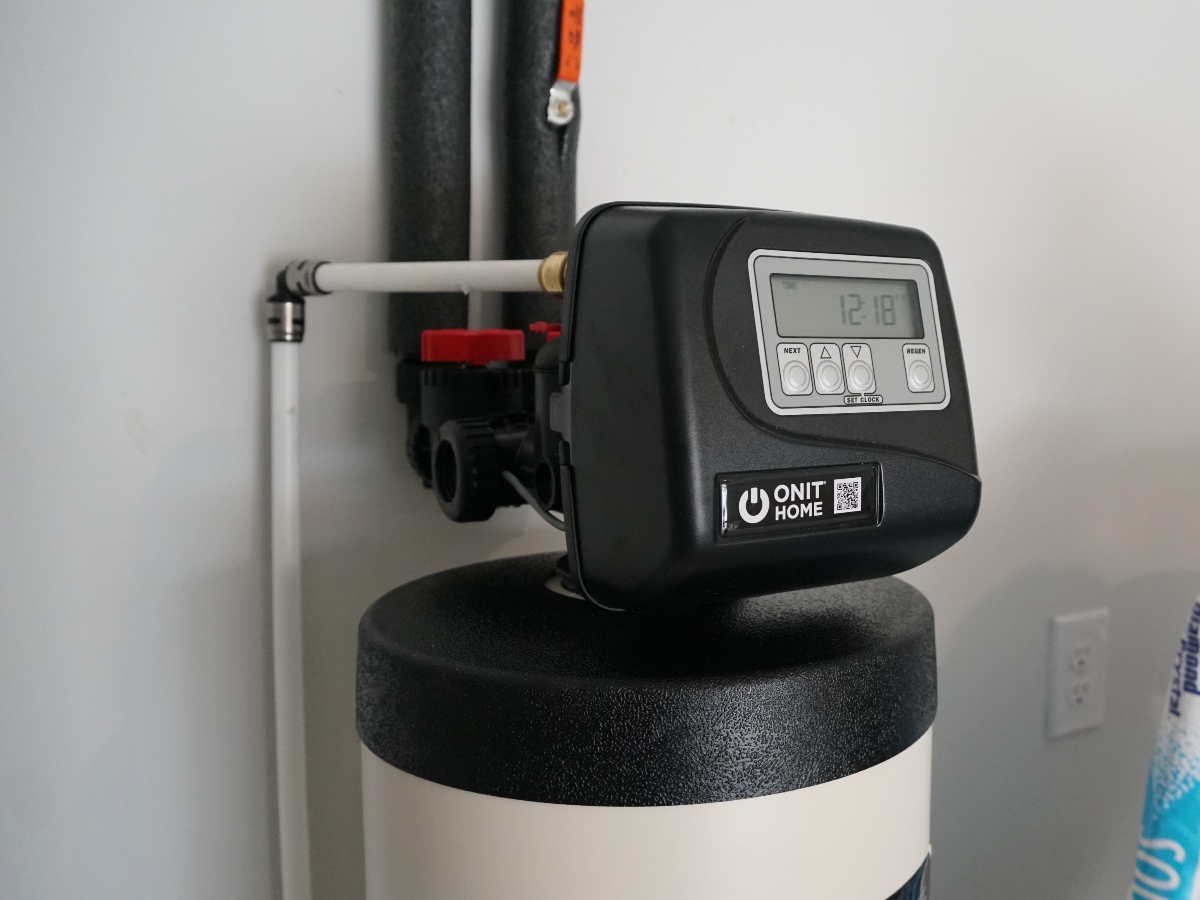 Clean Water in Your Home With ONIT Home's Whole House Filtration System
A water filtration system is not a one-size-fits-all solution, and at ONIT Home, we clearly understand this. That's why we offer affordable and customized systems for you. Our whole-house water filters comparisons guide will help you pick the best system for your home.
Need clean water? We're ONIT! Call us at 1-833-433-0331 or visit our website for more information on our water filtration systems.