When it comes to keeping your home safe, there are a lot of different things you can do. But if you don't fully understand how to secure your home, you might end up missing out on some of the most valuable ways to protect your property. That's especially true when people aren't home, such as when they're at work or perhaps gone even longer — like on vacation. Fortunately, there's help available for anyone who wants to make sure they're keeping their property as safe as possible, whether or not they're at home.
With easy-to-understand expert tips on how a homeowner can protect their home while away on vacation, you can get your home to a place where you feel safe and secure, leaving it unattended while you travel. Sometimes people like to have a friend or family member check on their home during a trip, but not everyone has that option. Even for people who do that, there are significant amounts of time where there's no one at the house. Here's how to secure your home and reduce the risk of problems during travel.
Protecting Your Home Without a Security System
The good news for people who don't have a security system is that they can protect their home without one. Follow these tips to reduce the chances of something going wrong.
Securing the Inside of the Property
You might not be as focused on the inside of the property as you are on the outside, but they're both important. Naturally, you don't want anyone getting into your home uninvited while you're away. Here's how you can secure the inside of your home:
Keep Important Objects of Value Out of Direct View.

That means securing valuables such as jewelry and important documents. Storing these items in a home safe makes it difficult for these items to fall into the wrong hands. Read more about shopping for a home safe

here

.

Consider All Household Items.

Securing your home is critical for protecting against more than just theft. It protects against other various types of damage that could occur. Some of this damage can stem from sources you might not consider regularly, like major water appliances. This includes your washer, dishwasher, water heater, and waterline.

Turn Off Water Valves.

When you

turn off the water valves

to these types of appliances, you reduce the risk of a water line breaking and causing significant damage while you're away. If no one is home, the problem may not be noticed until it's become quite serious.

Unplug Devices.

If you're going on vacation, there's no reason to leave the air fryer plugged in. Or the Xbox. Before heading out to catch your flight, take an inventory of what electronics you need to unplug. Keeping these items unplugged restricts their power consumption. It'll also keep these devices from

starting a fire

.

Secure Your Fireplace.

If you have a fireplace, it's vital to make sure there's nothing left burning, and the flue is closed.

Close Windows and Doors.

Make sure you lock up before leaving. Invest in a smart lock system for more advanced security features. We'll discuss these in more detail later.
Securing the Outside of the Property
The outside of your property needs good security when you're away on a trip, and should be a big focus on how to secure your home. As we mentioned before, this should include windows and doors. You should also avoid doing anything that could make it obvious you're not home. Take extra precautions to secure the outside of your home by:
Checking the Mailbox.

You'll want to make sure your mail isn't piling up in the mailbox. This is typically a clear sign someone isn't home. Have a friend or family member stop by to check your mailbox for you. If you're going to be vacationing for an extensive period, consider placing your mail on hold.

Finding Good Lighting.

Be sure that you use good exterior lighting that's on a timer. Having your lights switch on as the sun sets can trick people into thinking someone's home.

Securing the Garage.

Secure the garage door. Don't forget to close it as you leave. Lock it, if you can.

Maintaining the Landscape.

An unkempt yard is often a clue the homeowners have either forgotten how to use the lawn mower or are out of town for a lengthy period. Trim the yard and maintain landscaping before leaving to make it less likely that your home will be a target. If you can, have your yard done while you're gone to make your home less of a target.

Moving Outdoor Furniture.

If you have patio furniture or anything else that's

outdoors when you're home

, it's a good idea to bring it indoors while you're on vacation. This makes it less likely someone will take these items while you're gone. But also consider that people who are familiar with the exterior of your home may notice the change. This can be a clear indicator of your family's absence.

Locking Vehicles in the Driveway.

If you keep your vehicle in the driveway, lock up before leaving. Thieves may use your time on vacation as an opportunity to break into your car. Lock up and make sure you have an insurance policy before traveling.
A Home Security System Can Offer Efficient Protection
Hands down, a home security system offers a higher level of protection than what you can get without a system.
With the right equipment, you'll be able to see and hear what's going on inside your home, even if you're not there. You can also check out the surrounding area, in case someone comes onto your property. If something suspicious is happening at home, you'll receive a real-time alert on your smartphone from the security device.
Traditionally, a home security system includes an alarm panel and motion sensors. But drastic improvements and technological advancements have brought in more smart devices for securing your entire home.
The highly efficient level of protection that a home security system provides is the most important reason for having one. There are a lot of protection options you can consider and handle on your own. But trying to put something together is more complicated and won't give you the smooth operation that a security system will provide when it comes to how to secure your home. If you're really looking for true peace of mind while you're away on vacation, a home security system is the right choice.
Some items you should install in your home for 24/7 protection that can secure your home while on vacation include:
Indoor and Outdoor Security Cameras

Video Doorbell Cameras

Door and Window Sensors

Smart Lighting

Smart Lock

Smoke Detectors

Carbon Monoxide Detectors
Indoor and Outdoor Security Cameras
Installing indoor and outdoor security cameras is like having an extra set of eyes around your home. When you pair your security cameras with your smartphone, checking on things back home is as simple as pulling out your phone. Many of the cameras on today's market have smart features to keep track of movement at all hours closely. This includes night vision, HD video, two-way audio, and integrated motion detection that starts recording footage when the camera spots movement. You can store important clips away in an SD card, a NAS drive, or in a compatible cloud system.
Video Doorbell Cameras
A doorbell camera is a popular choice, as it allows you to see the person at your door even if you're not home. These kinds of cameras can be linked to your phone, and when you're away on vacation, you can still "answer the door." Not only does that allow you to respond to the person ringing the doorbell, but it also makes it clear that you've seen them on your property. They may not be sure if you're home, but they'll know that they're on camera.
Door and Window Sensors
These are the most fundamental components of a home security system. Their role is simple but critical, sending a signal to your armed system whenever a door or window is opened.
Motion Sensors
Motions sensors track movement around your home. They use infrared technology that senses body heat and spots motion within a set area. When the sensor detects motion while your home security system is armed, it will alert your alarm panel of a potential intrusion. Some motion sensors will send notifications to your smartphone. Use these sensors while you're on vacation to guard your surroundings.
Smart Lighting
Many homeowners will put their lights on timers whenever they vacation. While this can be effective, smart lighting is still a step above in terms of efficiency. Unlike a timer, you can control your smart lights from virtually anywhere. Many smart light bulbs have mobile applications that let you make timely adjustments straight from your phone. You can also schedule your lights to switch on and switch off at certain intervals.
Smart Locks
Let's say you've asked a friend to pick up and drop mail off inside your home while you're traveling. Instead of leaving them a spare key under the mat at the front door (something we highly recommend you don't do), which can be risky if someone else finds it, smart locks provide more secure protection. With a smart lock, you can let certain visitors into your home when you create temporary access codes. Or you can pair your smart locks to your smartphone to grant specific visitors access to your home no matter where you are.
Smoke Detectors
Protect your home from flames with smoke detectors. When you pair a smoke detector with your monitored home security system, the fire department will receive an alert when a fire emergency happens at your property.
Water Sensor
No one wants to deal with the aftermath of water damage in their home. A water sensor can alert you of water leaks in your home by sending a notification to your alarm system and smartphone. For more innovative features, look for water sensors with automatic water shut-off functionality to prevent leaks or water damage from happening.
No matter what kind of protection you want, the size of your house, or the worries you have when you're traveling, the components you choose to be part of your security system can add up to a quality experience you can feel good about. The efficiency and value of a security system for your home means you can go on vacation without worry, and truly enjoy all your trip offers.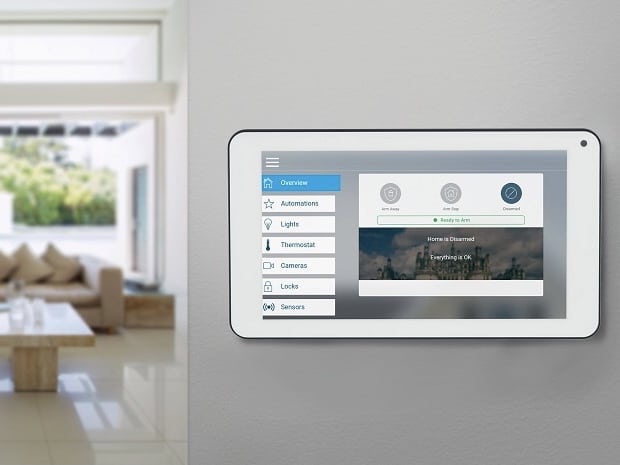 Ready to Find the Right Security System for Your Needs?
When it's time to choose a security system and protection options for your home, we've got you covered. Contact us at ONIT today, and let us help you make informed choices on the equipment you want for your security system. With everything we provide, you can truly build a system that's going to be right for your needs. We're here to help, and want to make sure you have the security and peace of mind you deserve, whether you're away for the day or traveling for weeks or months at a time. Knowing your house is safe and secure while you're away can help you have a much better experience on vacation.
ONIT Home is your one-stop shop for all your bundled home needs. We're currently offering $1,500 in vouchers to be used with security, water and solar. You can also get a free water filtration system and security system with the purchase of a solar panel system, or a $2,000 security system for only $1,000. That way, you can protect your family from contaminated water and protect them with a safe home.