Water is meant to be life, and it's critical to keep it pure and healthy all the time. So, whether you are cooking, showering, or even drinking, it's essential to use water without harsh chemicals. Therefore, choosing a cost-effective and reliable whole-house filter is necessary. In this definition, two of the biggest brands, Aquasana vs Culligan, often meet.
Culligan and Aquasana are two of the top water purifying systems. But are they the best water filters? What are their significant differences? Learn about Culligan and Aquasana and the key features when selecting a water purifier.
Key Comparisons:
Aquasana vs Culligan
Features
Aquasana
Culligan
Dimensions
7.48 x 8.26 x 16.33 inches
9 x 46 x 44 inches
Item Weight
7 Gallons Per Minute
9 Pounds
Compatible Filters
AQ-4105
WHR-140 Replacement Filter Cartridge
Connection Type
Shower pipe
Shower pipe
Manufacturer warranty
1 year(s)
5 year(s)
Certifications
NSF/ANSI 177
NSF/ANSI 177
Accessories Included
Washers, Massaging shower head
Culligan HSH-C135 shower filter, Culligan WHR-140 filter

cartridge

Price
Buy Now Amazon
Buy Now Amazon
Brand overview – Aquasana vs. Culligan
Below is a brand overview of Aquasana vs Culligan
Aquasana Reviews
Aquasana is one of the top competitors in the US water filter market. It provides filtration options for both individual and whole-house use. In addition, the Texas-based business is known for outperforming its rivals with comparable systems that offer just a little extra, making them superior in the eyes of the consumer.
Aquasana's primary focus is providing residential water treatment products. It includes various NSF-certified drinking water systems, shower filters, softeners, and whole-house water filters.
Aquasana has created several exclusive filtering techniques only accessible in their products. The methods include salt-free softening options and economic strategies for lowering the number of microorganisms in drinking water. In addition, with reusable exterior filter casings and recyclable cartridges, Aquasana products all commit to environmentally friendly production.
Aquasana Features
Design and Installation: Most Aquasana products are created to be simple for homeowners to install, use and maintain without the assistance of a professional. As a result, their clients may enjoy the advantages of Aquasana goods without having to spend a lot. Aquasana also has a user manual that includes detailed instructions for installation.
The lifespan of Products: The lifespan of your filters is determined by the amount of use in your home. According to Aquasana, pre-filters, typically the first to block with sediment extracted from the water, should be changed every 2-3 months. Post-filters should be changed every six months because they have a longer lifespan.
Proprietary Technology: Aquasana exclusively focuses on water filtration systems. Therefore, the brand has the advantage of using its highly specialized expertise to aid its consumers. Additionally, their customer service is extremely knowledgeable about Aquasana's products, and they serve their customers in the best way possible.
Culligan Reviews
Culligan is a production company of water purification products in Illinois that started in1936. The firm now has a worldwide distribution network and collaborates with regional authorities to supply its goods.
Unlike most modern water treatment firms, Culligan has a unique sales philosophy. Culligan doesn't allow clients to purchase its products online with just one click; instead, they must do it through a neighborhood sales representative, referred to as a "Culligan man."
The service offered by Culligan extends beyond the initial transaction. For example, when you purchase a Culligan water softener system, the company also does the installation, maintenance, and repairs at an additional cost already included in your package.
Culligan Features
Certified Products: Culligan systems get tried and approved by WQA to NSF requirements. For that reason, you can be sure that you are investing in dependable water softeners independently evaluated for their effectiveness.
Satisfaction Guarantee: You are covered by a 30-day money-back guarantee when you purchase a Culligan whole-house system. Within the first month of use, you'll receive a complete refund if you're unsatisfied with your product.
Convenient and No-Maintenance: Culligan products are maintenance-free. It is because your local Culligan water specialist will handle it all for you, including installation, Culligan unit maintenance, and salt delivery.
Efficient Performance: Some Culligan systems regenerate the resins proportionately. This means that only the resins saturated with hardness regenerate, further lowering your salt usage.
Aquasana vs Culligan

 Similarities and Differences

Aquasana and Culligan have several similarities and differences. Both brands provide various home filtration products to help get rid of harmful elements like lead, mercury, chlorine, and more. However, both organizations have unique qualities that set them apart and strengths and limitations.

Both systems have the same function of working to raise the standard of the water in your home. With these systems in place, you may not see impurities in water flowing through your taps or faucets.

The best way to identify the differences is to examine each company's advantages. So before evaluating the similarities and contrasts, let's take a quick look at each company's benefits. For example, Culligan's strength is lead removal, but Aquasana is widely renowned for lowering chlorine.

One major strength of Aquasana and Culligan is removing mercury. However, Culligan consistently removes mercury at a higher rate than Aquasana.
The similarity is that both are home water filtration systems that deliver pure, delicious drinking water and a few extras.
Your family will have access to cleaner water thanks to one of these filter systems than what is provided by your faucet.
They achieve this by filtering tap water through a multi-stage process to remove contaminants, including chemicals, heavy metals, and chlorine. This guarantees that your family's water is pure, safe, and nutritious.
The filter systems include some extras in the initial price of the device. For example, the Culligan system has an inbuilt softener that helps soften hard water.
Both Organizations offer the same benefits but vary in quality control, replacement parts, and price points.
On average, Aquasana is more affordable than Culligan. However, different models of Culligan can be way cheaper than Aquasana, depending on the filter you purchase from each company.
Taste and Odor
Both Culligan and Aquasana can minimize or completely get rid of any tastes or odors that might be present in your water. Additionally, both organizations can assist you with whether your water tastes bad or has chlorine, sulfur, or both.
Health Benefits
Filtration systems from Culligan and Aquasana can both help clean your water of dangerous impurities. These toxins include pesticides, mercury, lead, and more.
Chlorine Removal
Culligan and Aquasana remove chlorine from water. However, Aquasana does so differently. Instead of using an iodinated resin filter to remove chlorine, it uses granulated activated carbon. Both methods successfully remove chlorine, although resin is superior to carbon granules at eliminating odor and silt.
Environmental Benefits
Culligan and Aquasana use several methods to lessen the quantity of waste their products produce. It entails employing recyclable resources while building and reusing materials rather than dumping them continuously.
Comparison between Aquasana vs. Culligan
Culligan and Aquasana companies offer top-notch water purification systems. However, it isn't easy to compare them because of the price differences.
The best part about the Aquasana vs Culligan water filters is that they are simple to set up in your home and provide the best quality drinking water. In addition, it is simpler to install them because they come with an installation guide. Below are some of their product features.
Aquasana's Water Filtration System
Aquasana's water filtration system is exceptional and provides clean water. In addition, the entire system is packaged in a small, portable unit that is significantly more compact than several other systems available on the market.
The benefit of having a small and portable system is the ability to enjoy high-quality water wherever you go. Moreover, unlike some designs you must install at home, Aquasana's system is mobile because it uses a refilled bottle rather than a tank.
The Aquasana series is available in three sizes: the Aquasana Lite, the Aquasana Sport, and Aquasana Pro. Depending on your demands, each offers a different number of filters and storage space, both of which are essential.
The Aquasana Sport filters up to 100 gallons of drinking water and contains eight ounces per filter. Additionally, each Aquasana Lite filter can hold 32 ounces, although it can only handle 25 gallons of water. Lastly, the filter in the Aquasana Pro contains 64 ounces and lasts 50 gallons of water before needing to be changed.
Pros
Filters are straightforward to replace
Certified by the National Sanitation Foundation (NSF)
Uses an up-flow design
Cons
Filters are only usable for six months.
Culligan Water Filtration System
Culligan's Infinity replaceable and self-cleaning water filters give you and your family great-tasting water.
They're a perfect option for drinking, preparing, and cooking your favorite dishes and beverages. Additionally, they significantly decrease typical water impurities, including chlorine, lead, mold, mildew, and more.
The Culligan WHR-150 filter can filter 587 liters of water or 150 gallons. The filter can also remove water sediments, chlorine, and other impurities. Besides, it improves the taste of your water.
Culligan water filters are designed to enhance the quality of your water. All Culligan filters are tested and certified by the National Sanitation Foundation (NSF) to eliminate mercury, lead, asbestos, and chlorine.
Pros
Excellent customer satisfaction
Installation is simple.
Anti-clog rubber holes
Cons
It does not remove much iron and chloramine.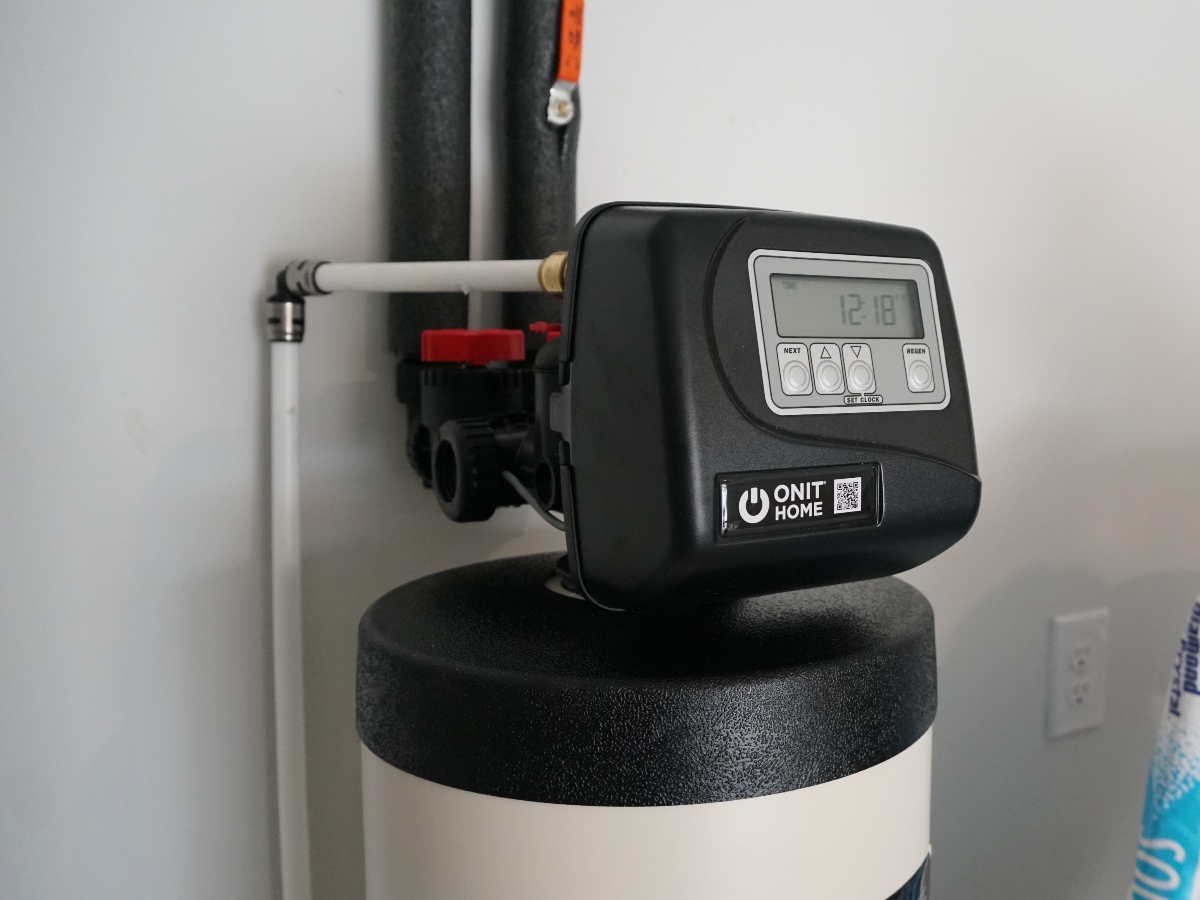 Bottom Line
At ONIT Home, we offer reverse osmosis systems, whole home water systems, and Ultraviolet (UV) Light Water Filtration systems that guarantee contaminant-free and cleaner water. We understand how important clean water is for our health. So, we will collaborate with you to test your water, create a system suitable for your home, and make sure you get water in its purest state.
We have flexible financing options and excellent customer care service to ensure your procurement, transportation, and installation process is smooth and stress-free. To speak to our agents, call us at 1-833-433-0331 for additional details, or fill out our online form to request a free water test to determine what impurities are in your tap water. Whatever you need, we are ONIT!